Features:
Penis- enhancing cream, dramatically yet gently get your bro improved.
There will be a slightly burning sensation after application, which will gradually disappear after an hour.
Suitable for everyday use after shower, better to use it on a long-term basis to get the full effect.
one ointment is recommended to be used out within one month, and four for one course.
One for 50ml.
Please note that the recommended massage time is 10-15 minutes; ejaculation is not recommended during the massage; rinse with water after the massage.
Customer Reviews
06/23/2021
Collison S.

United States
I recommend this product
Highly recommended!
This product I just received a day I can not wait to open the package ready to try, this enlargement cream has an organic herbal fragrance, very good smell. I could feel a little expansion in my penis when I was using it, but it wasn't like I was blowing up a balloon because the hardness had improved a little. I'm looking forward to better results after using it for a while, guys, and I'll share more about my experience after using it for a while!
06/23/2021
Jonathan

United States
I recommend this product
Exceeded my expectations!
Although my wife was considerate enough not to mention it, I had very low self-esteem because of the size of my penis. Then I tried this enhancement cream, which I thought might be more of a placebo. But the truth is far beyond my expectations, I applied and massaged my penis according to the instructions, and it really worked, my penis gradually became thicker and stronger, my wife's eyes looked at me with a glow that I had never seen before, my wife's satisfied expression gave me a great sense of accomplishment, thank you very much!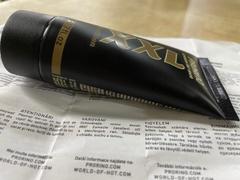 内容3
内容4