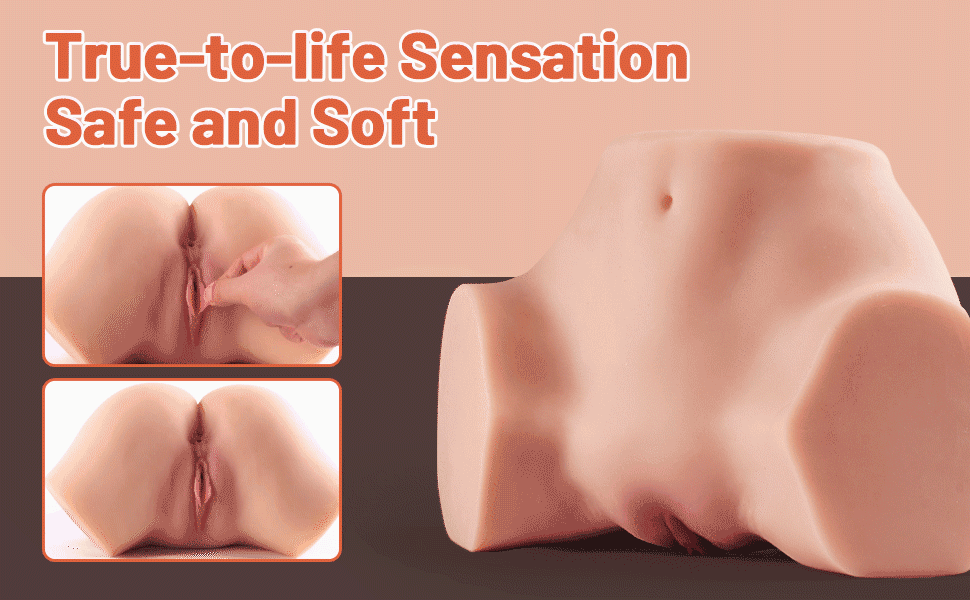 Features:

Lifelike plump hips, unparalleled visual temptation.
Supine position, explore the sweetness of missionary style and doggy style.
2 tight holes, perfectly imitate your girlfriend, dispelling loneliness.
Realistic internal 3D structure, massage your dick in all directions.
TPE material, soft and fit without harming delicate skin.
100% waterproof, can be cleaned with running water, clean and hygienic orgasmic experience.
Description:
Are you still suffering from the loneliness of being far away from your partner? Do you find it difficult to spend time alone? Then you need a caring plaything to soothe your sudden sensuality. And that's what we are actually able to offer. This beautiful buttock exists in a supine position, with a very high degree of simulation of the private parts' skin texture. The inner walls of the vagina and anus are all covered with threads, raised hills, and thorns, which bring you a progressive accumulation of pleasure. Imagine that on a sweet night, this naughty coed lying on her back on the bed, gently lifting her short skirt with her fingertips. Legs are slightly lifted up, revealing the dark pink pussy. Two sweet little holes seem to be opening and closing, waiting for your fierce piercing. You can't wait to rush forward and throw her down, the virgin-like tight dick-wrapping is already in your mind. She kept complaining and begged you to redouble your efforts. How delicious it is! While your bro is comforted, your hands can knead the full buttock wantonly. High elastic TPE material allows you to feel actual skin touching. Moreover, it is completely waterproof. In other words, you are allowed to enjoy the bathtub game, just like having a wonderful couple-bathing with your sexy lover.
Specification:
Size: 12.59 x 6.89 x 6.89 inch
Material: TPE
Weight: 7.72lb
Package included:
1 x Buttock
Customer Reviews
08/05/2021
Xixi

France
I recommend this product
A great Toy
This toy is really good, the size and the weight make it confortable to use. The holes are well designed and aren't too small like some other toy I had tried before. The cleaning isn't the easiest but it's a minor drawback for the quality of this butt
06/10/2021
Darren D.

United States
I recommend this product
Easy to use and a versatile first choice
I love this thing, my first immediate thought was a weird size... but the more I think/use it, I actually really like the size. It does not feel weird and actually prefer it over other similar toys. Multiple holes give multiple feels, great to change between them and make a night of it. Super easy to clean as well, the hole on the top makes it especially easy to run water through and clean. Absolutely love this. Worth the money.
01/20/2021
Brendan

United States
I recommend this product
Nice shape and softness. Works great
Okay first off I have to say this version is a lot better than the previous one. It's not quite as big which I didn't like but everything else is better. The feel, the shape and especially the way it sits and the angles. Cleanup is as expected not the easiest but definitely not hard either. It works great and out of these style of toys this one is the best I've used to date.
01/13/2021
shawn

United States
I recommend this product
best doll
I'm going to preface this by saying that I own 4 other masterbators, and none of them come close to the feeling of this one! To start, the package was super discrete, just a bit heavy with awkward weight distribution. I have to say, this toy is made with some high quality, life like skin material, it felt amazing to touch and squish it. The holes were snug enough that you won't damage the toy during use. cleaning it is the only downside to this toy that I see. Its really awkward to try and clean it in a sink, and i'm not too sure if you can take in a shower to clean it. Overall I'd give this a 4.5/5. A great toy for the price as well, it should be worth at least double its current value.
soft and real
Perfect, when you want to fuck hard it handles it nicely
Amazing
It's so lifelike. feels great. It's even better than a real person. This product is more exquisite than the picture. You can knead and pose at will
内容3
内容4