The best dildo I've ever ordered online
In the past years, I have bought several different "realistic" dildo's and this one is BY FAR the best dildo I've ever ordered online.
And this time, I was recommended this by a friend. For starters the suction cup actually holds onto whatever you put it on and you don't have to worry about it falling off unlike literally every other one that I've tried. Previous dildos I have bought from other sites and place were ok, but were very hard (unrealistic touch). But this dildo is unbelievably soft and definitely the most life like one that I have EVER tried plus it's super easy to clean as well.
In addition some dildos have had a smell that I can't get rid of for the life of me. It's like....gross. I don't even use it. THIS one though is top shelf!!! I'm ecstatic to say there's no smell and I will be using it promptly lol .About the vibrations, they are pretty good, i would not say the best but you can sure feel them. Their is multiple settings to cycle through and all of them feel good. The heating element is new but is a welcome extra. At first you dont notice it but once it heats up and you begin to feel it, it feels absolutely amazing. Now the thrusting, feels beyond amazing, makes you want to finish fast as it hits deep and all the right spots.
It came in a very discreet package. The box was in perfect condition and packaged well. No mention of the product inside. So no worries on someone seeing what you've ordered.
The box itself is white and came Saran Wrap and this product is phenomenal.
The charger works very well and seems to charge the product rather quickly as well as the remote.. speaking of the remote took a minute to figure out, the big trick is to make sure you have BOTH THE TOY AND REMOTE ON AT THE SAME TIME. The remote doesn't seem to work to turn the toy on, meaning you have to press the button on the dildo itself to power it on, but once both are on the remote can control the toy perfectly.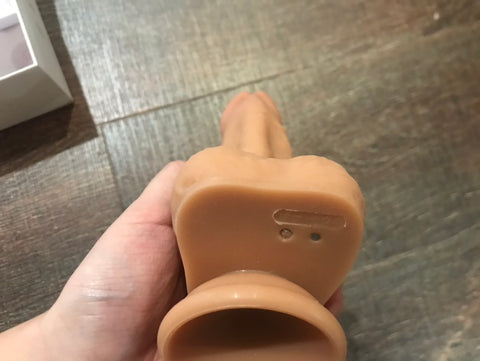 There's a ton of different thrusting and vibration settings so you can customize your sensation and use it a thousand different ways. I'll definitely be getting toys from the company in the future because I really can't say enough great things about this. It's definitely my new favorite toy. I highly recommend this one.